Green Materials
RESEARCH & IMPLEMENTATION

2017-2021 - DFROST RETAIL IDENTITY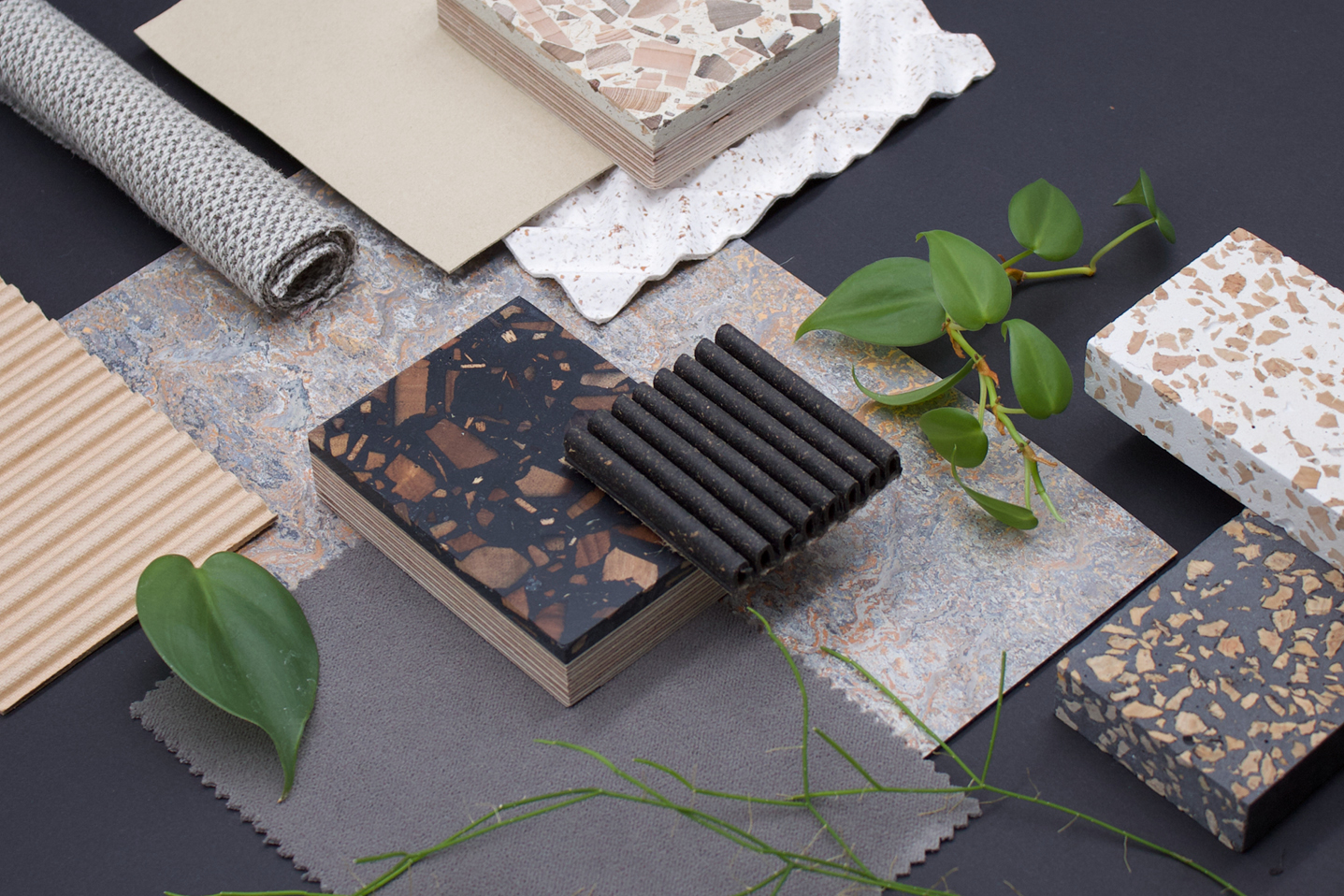 "GREEN" MATERIALS – SUSTAINABLE MATERIALS MANAGEMENT
In the wake of climate change and global warming, the issue of sustainability is increasingly becoming the focus of political, economic and social awareness. With increasing relevance and penetration on the part of consumers and manufacturing companies, the topic is now also reaching retailers.
In essence, it is about extending the classic services in the field of conception, development and production / logistics of POS campaigns, set ups and marketing to include the aspect of (ecological) sustainability.
In addition to know-how about materials, production processes, packaging and logistics and the corresponding network, internal processes are also examined and the usual is questioned in order to raise awareness of sustainability.
material research & implementation
©️ DFROST Retail Identity

---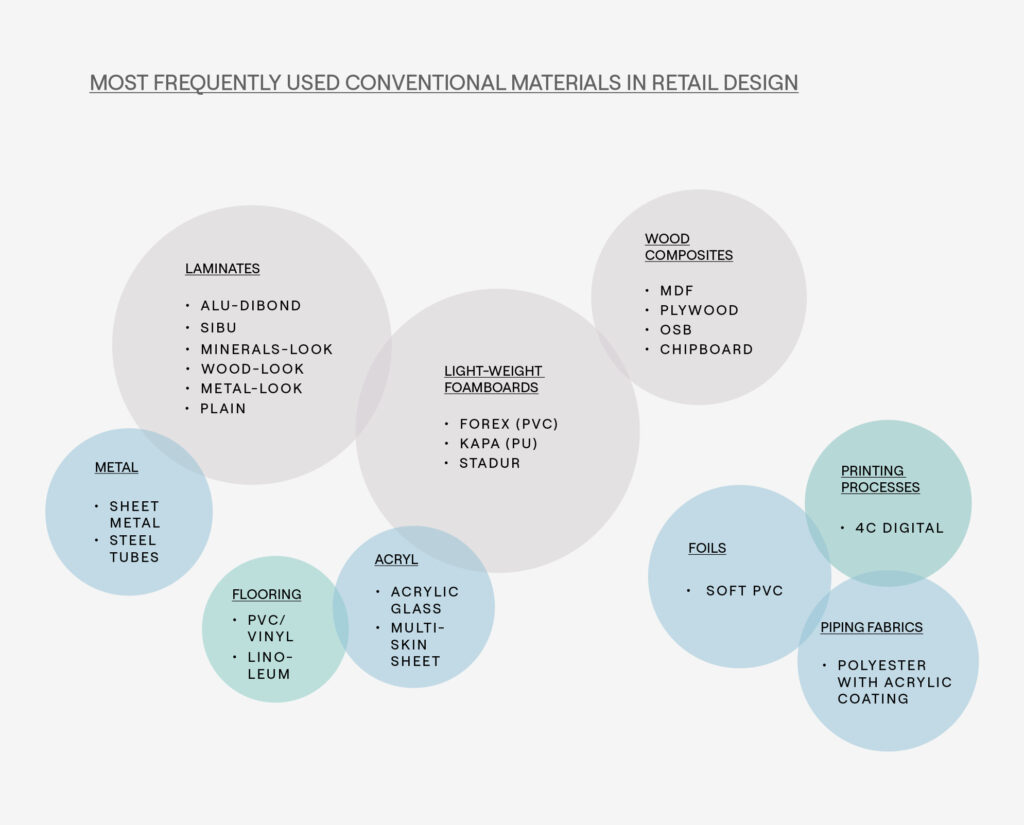 MATERIAL USAGE IN THE RETAIL SECTOR
The production as well as the disposal of plastics, such as PVC and light foam boards, pollute the environment. How can we switch to more sustainable materials? Which are these alternatives and how can they compete with conventional ones price-wise and in terms of material properties?
---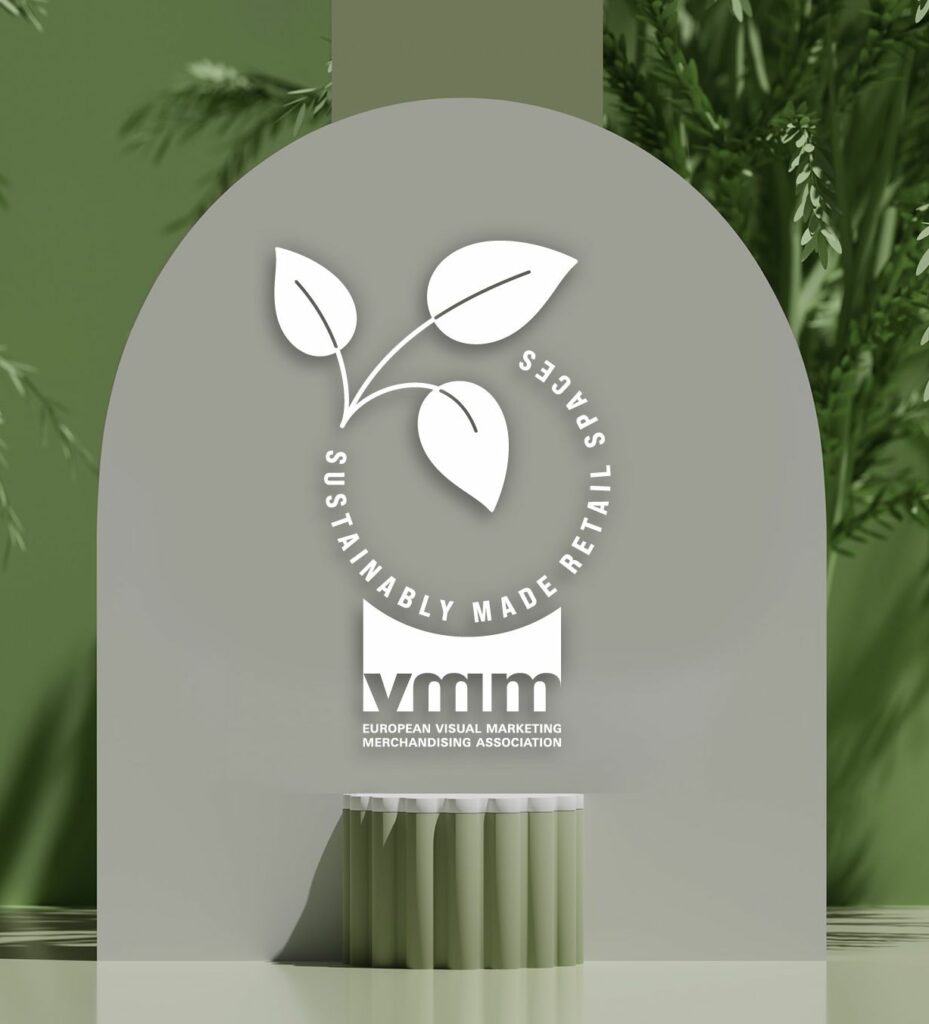 SUSTAINABLY MADE SPACES BY VMM
In spring 2021, the sustainability label of the European Visual Marketing Merchandising Association (VMM) was launched.
Designers, manufacturers and companies can submit their sustainable retail projects for certification. The label is intended to inspire the industry to assume joint responsibility and to think of brand spaces in a new and more ecological way.
There is still a long way to go, but the certificate is a first step towards making meaningful commitment to the preservation of our planet visible, and at the same time giving the end customer orientation in the sustainability jungle.
The label is an independent and transparent certificate and gives designers and implementers of retail stagings an instrument to prove their sustainable approach. The label is intended to show that it is also possible to create sophisticated and aesthetically pleasing designs using more environmentally friendly materials.
The certification criteria include the materials used, as well as information on packaging, shipping and disposal. Successfully certified projects receive a certificate and a seal that can be used as visible proof of their sustainable commitment.
©️ VMM