3D Printing Bricks
MATERIAL RESEARCH & DEVELOPMENT,
DESIGN RESEARCH

2023-X (ONGOING PROJECT)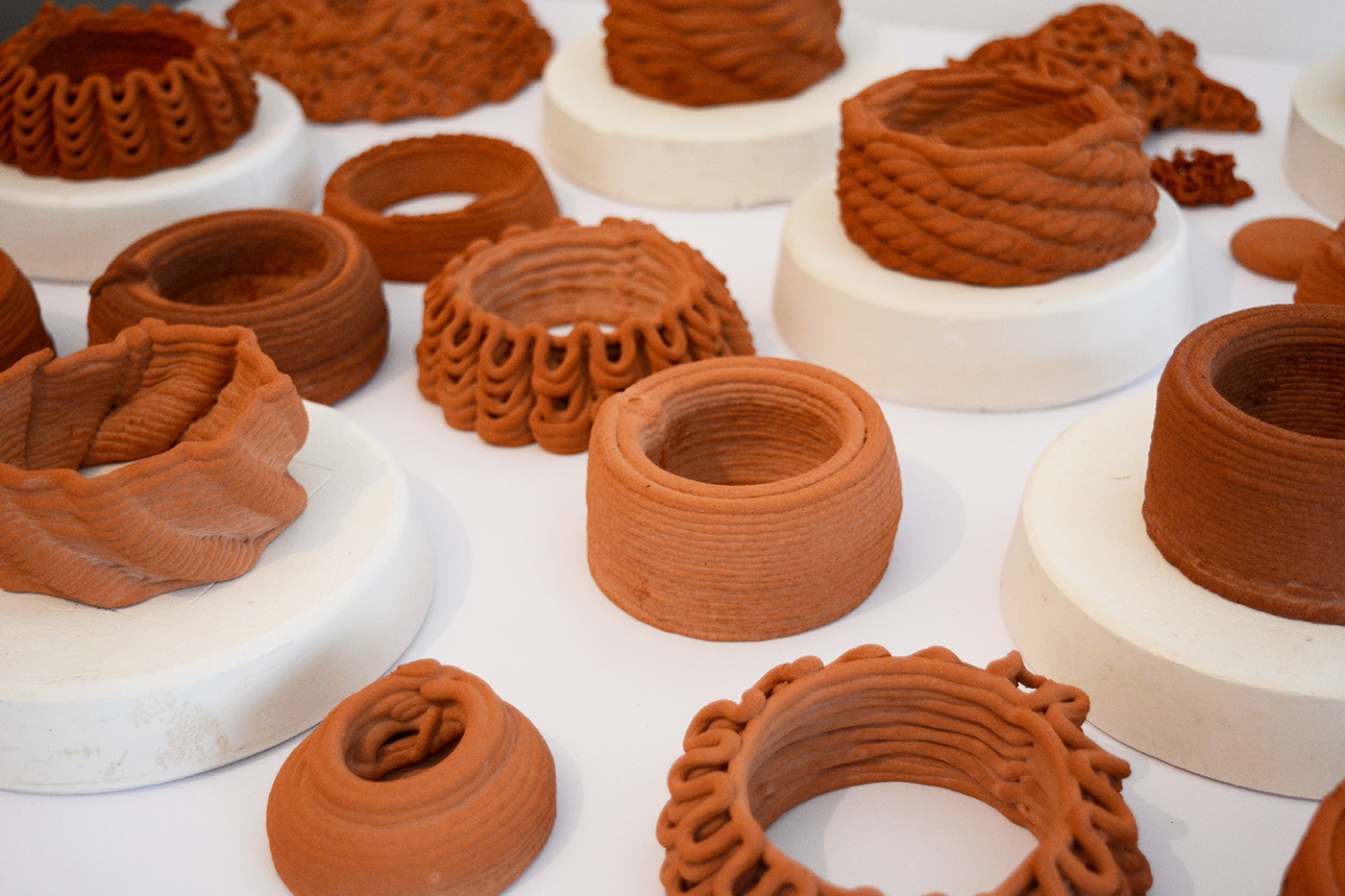 3D PRINTING BRICKS –
RESEARCH PROJECT
The "3D PRINTING BRICKS" research project transforms brick dust, for example from demolition waste, into a 3D printable mass with the help of a natural binding agent. Without the need for a new firing process, this opens up numerous design possibilities with only a small amount of energy, providing a clear contrast to the usual cuboid brick format.
In addition, no conventional mortar is required, the residues of which often pose a problem when reusing and recycling bricks.
DR. KERSTIN MAYER
– scientific associate at Muthesius University of Fine Arts and Design
DIPL.-DES. MELISSA ACKER
– lecturer at Muthesius University of Fine Arts and Design
– academic associate at University of Applied Sciences Stuttgart
material research + development, design research
©️ All rights reserved.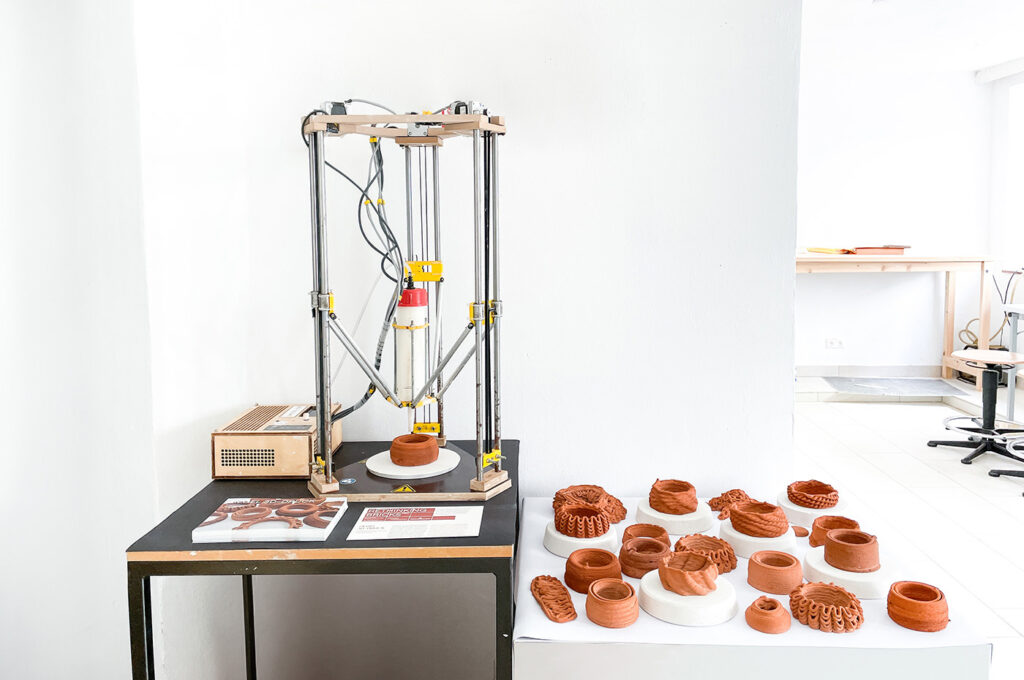 ---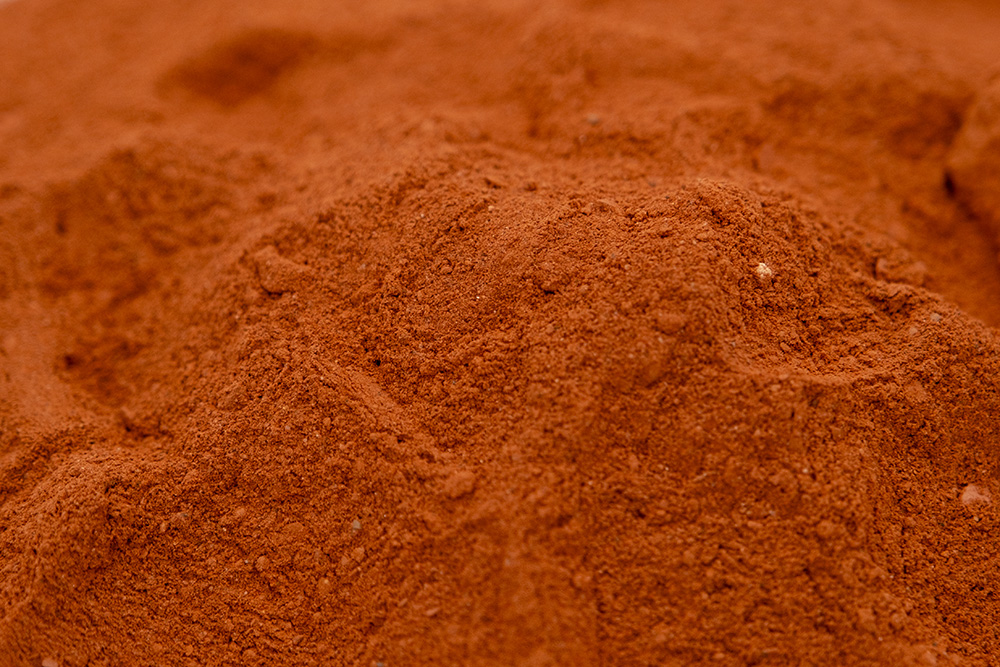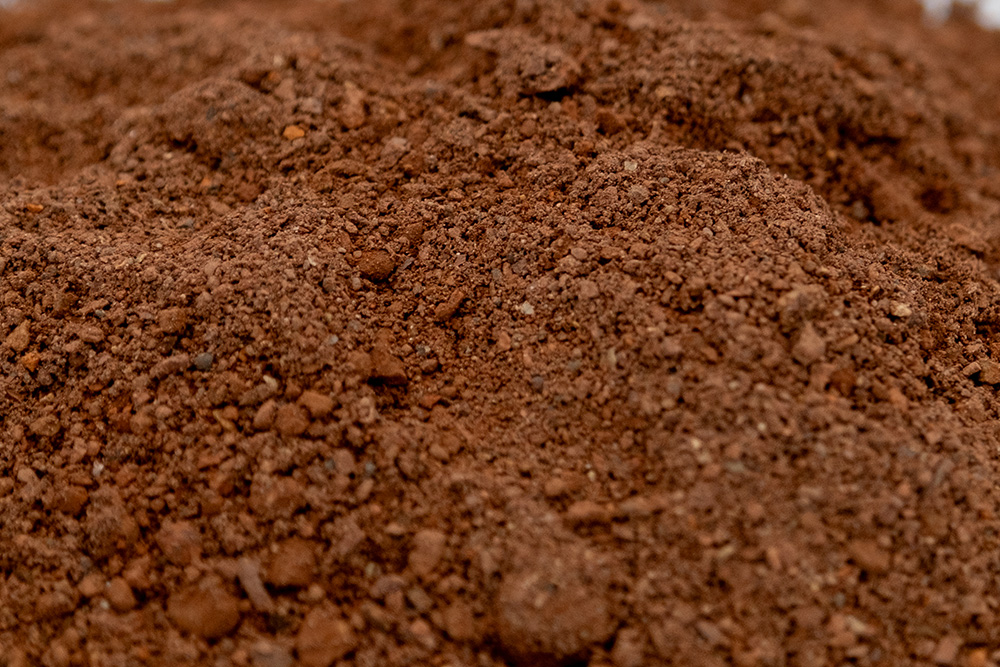 ---
As part of the "Rethinking Bricks" course, in addition to the student projects, a research project was launched under the direction of the course leaders Dr. Kerstin Mayer (Material Lab Muthesius University of Fine Arts and Design) and Dipl.-Des. Melissa Acker (studio sustainable matter). This research project deals with the use of brick waste for additive manufacturing in 3D printing.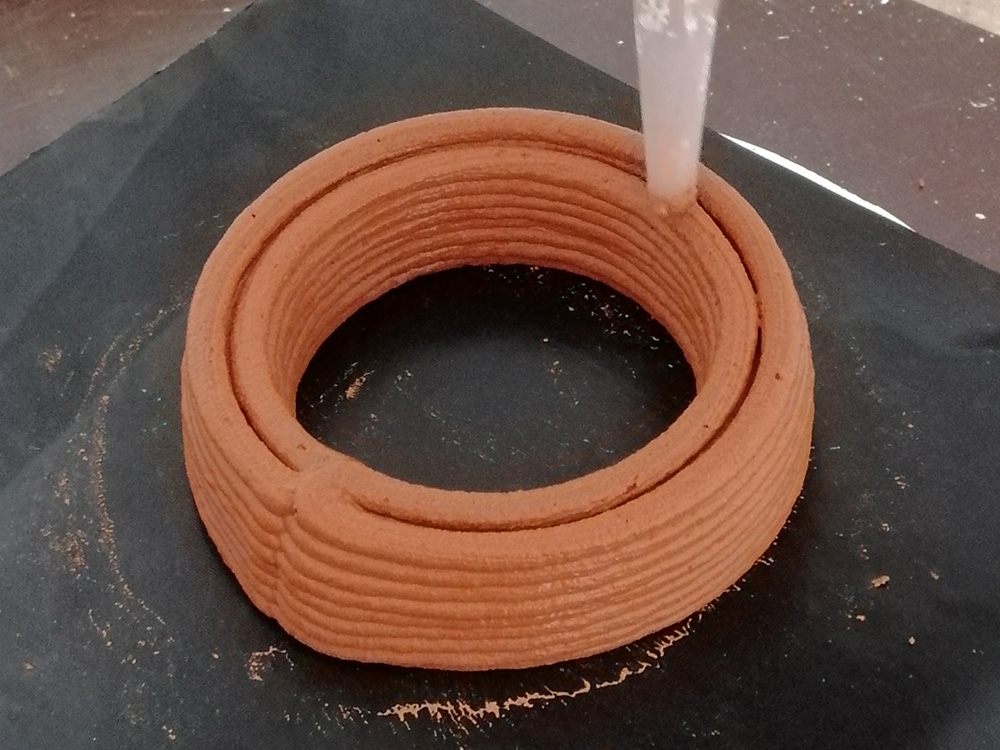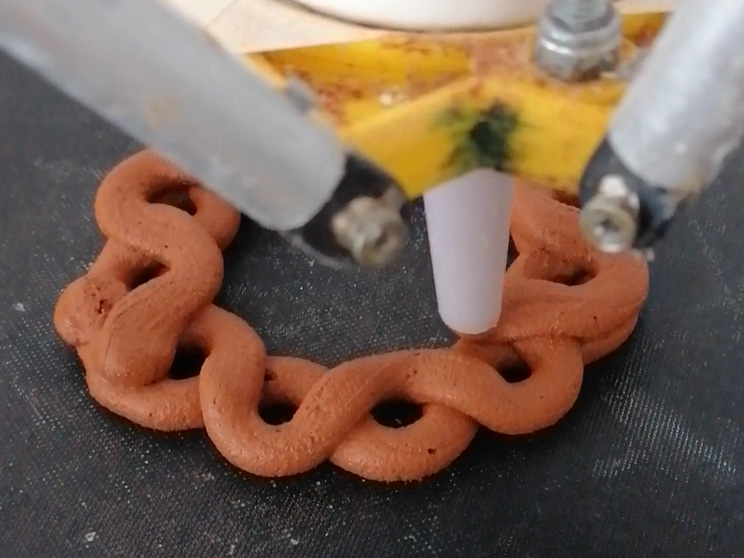 ---
The construction sector is responsible for 60 percent of resource consumption worldwide1 and in Germany for 55 percent of total waste2. In order to achieve the necessary turnaround in construction, resource awareness must be created in many areas. The brick industry has also recognised this and is actively researching circular bricks for sustainable architecture.
Additive manufacturing offers promising approaches for more resource-conscious construction. 3D printed houses made of concrete or even clay allow a variety of shapes and are built on site without formwork or transport of prefabricated parts.
During the course a promising test material was created with indications of possible architectural applications. The next steps concern the optimization and characterization of the material as well as prototype application designs.
1 Sobek, Werner. non nobis – über das Bauen in der Zukunft Band 1:
Ausgehen muss man von dem, was ist. Av edition, 2022.
2 SCI4climate. NRW 2021: FACT SHEET: ABFALLHIERARCHIE – DIE STUFEN DER
KREISLAUFWIRTSCHAFT. Teil 2 der Fact Sheet-Reihe zur Kreislaufwirtschaft, Köln. Seite 9.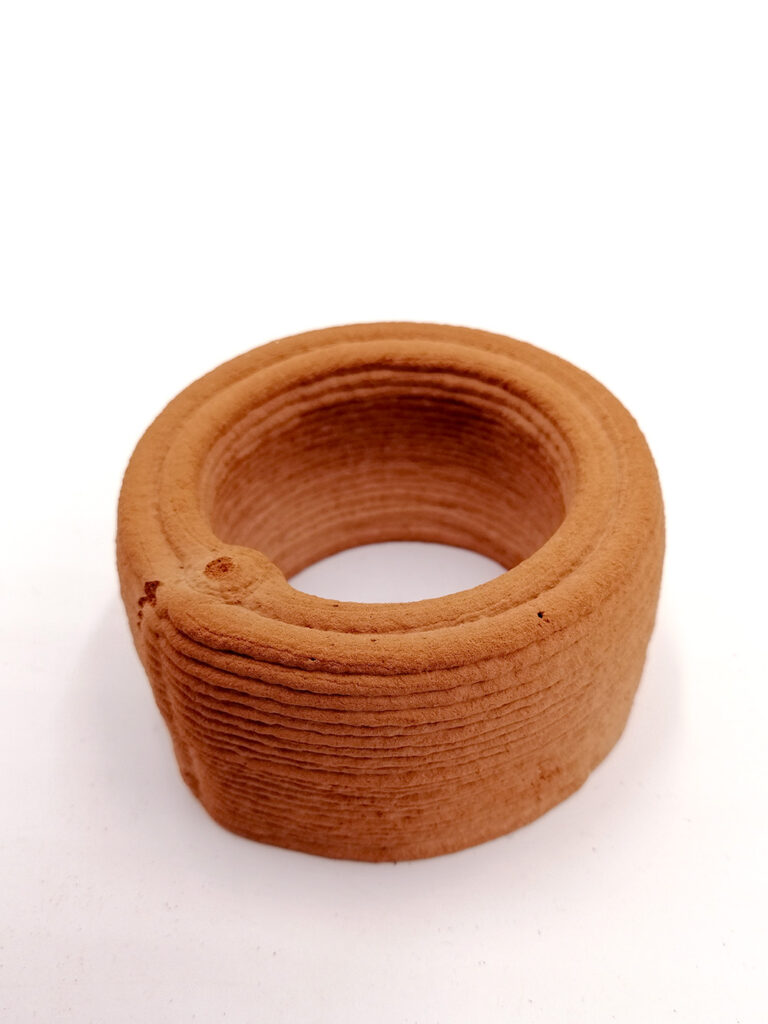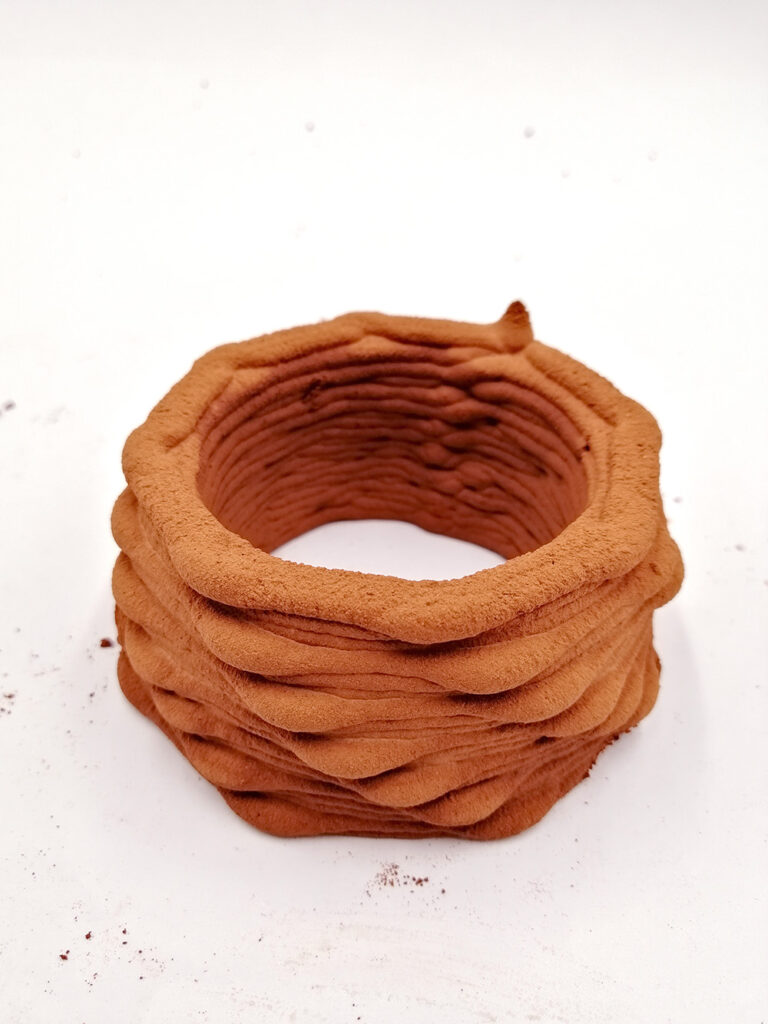 ---
Bricks are "modular" building materials; a wide variety of building typologies can be created from individual bricks. Ideally, a dismantled brick should therefore also be reused as such – although this is not always possible.
Additive manufacturing methods open up completely new design and resource-saving possibilities compared to traditional masonry construction. A variety of shapes, the design of exciting surfaces, the embedding of cavities or hidden internal supporting walls are all possible. This allows radically new potential for designers.
Fine brick particles are processed into a flowable paste using a biodegradable binder, which can then be extruded. To ensure that the material retains its shape after printing, the viscosity of the paste must be adjusted accordingly. In addition, the grain size must be suitable for the dimensions of the object to be printed – the larger the object, the coarser the particles that can be used.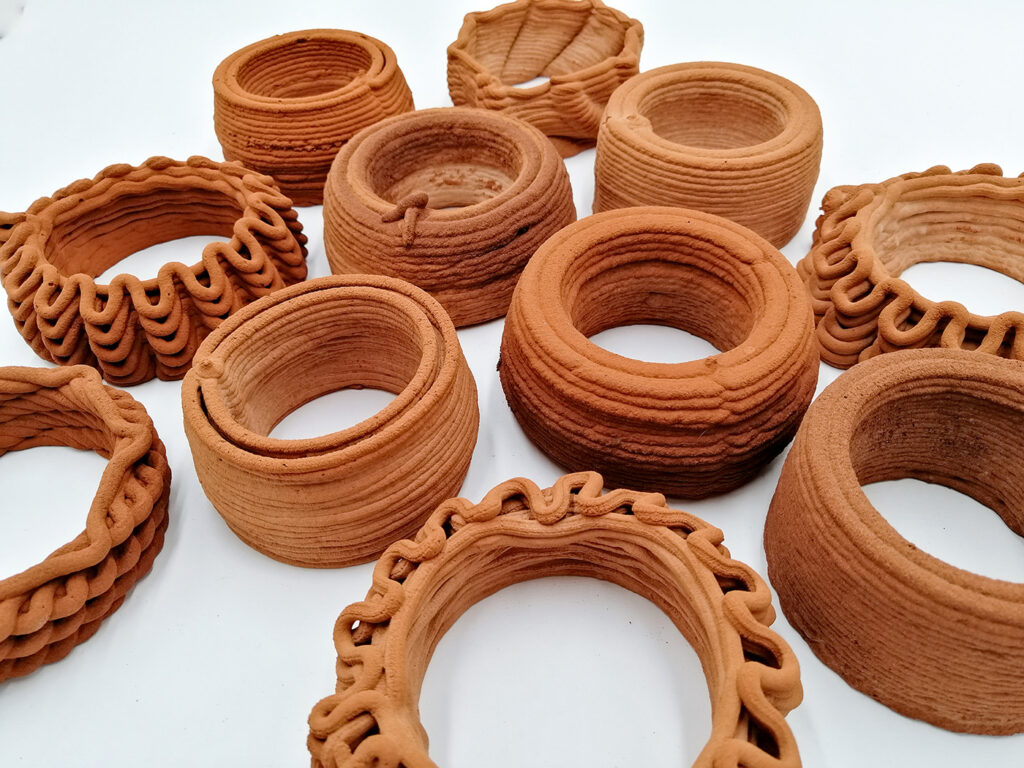 ---
The initial printing tests of the project have been exhibited in July 2023 at the annual exhibition "Einblick/Ausblick" at Muthesius University of Fine Arts and Design, together with the outcomes of the elective course "Rethinking Bricks" which was supervised by Dr. Kerstin Mayer and Melissa Acker as well.